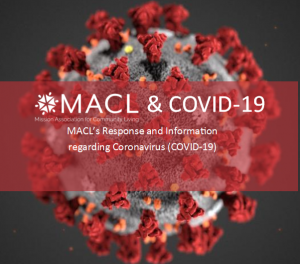 As Canada continues to deal with the repercussions of the COVID-19 pandemic, MACL is committed to playing our part in ensuring the health and wellbeing of our community.
We want to make sure that you are aware of what MACL is currently doing, and know that we do have plans in place to deal with situations such as this.
The health of our employees and the people and families we serve is of utmost importance to us. Our priority during this time is to keep both individuals and staff safe and healthy over the next months. As such, we are following the advice of our public health officials.
Please click the link below to see our Communicable Disease Prevention Plan for information about how MACL is managing the current COVID-19 Pandemic:
There is a lot of information being shared on social media, but we encourage you to rely on credible sources for information and updates such as:
For Persons Served, their Families and Caregivers:
For Staff: